Main content starts here, tab to start navigating
MAY EDITION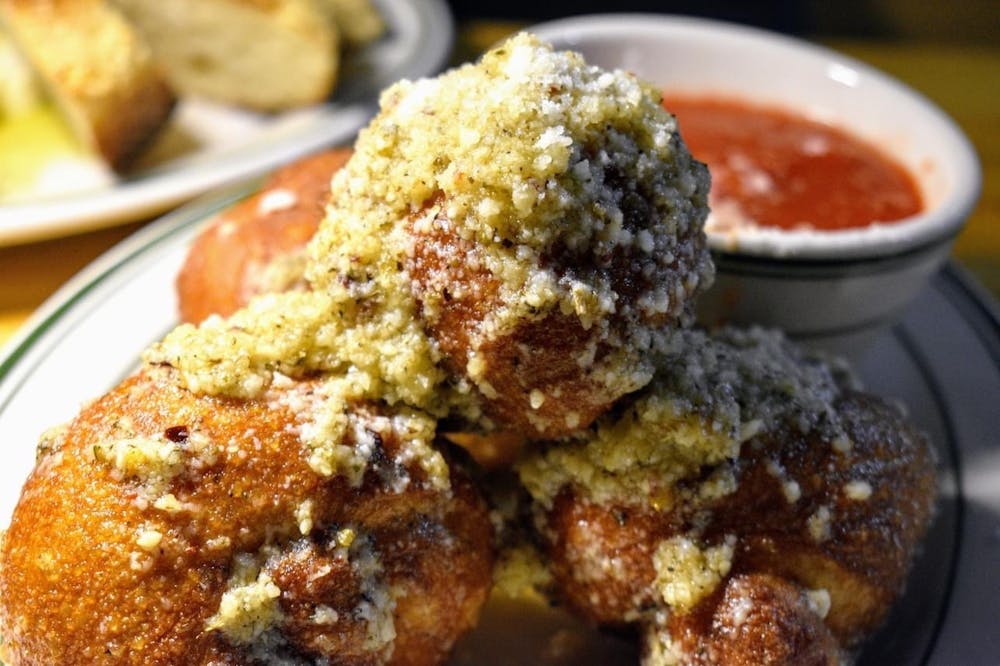 Highlights:
May "Fourth", Cinco de Mayo, & Mother's Day Specials at Curry Ford!
*Third Sunday Bruno's Bodega Markets & Brunch Bruno
Due to Mother's Day!
New Menu Items!
Behind the Scenes Pizza Class!
New Drinks, Pizzas, Specials & Desserts at Both Locations!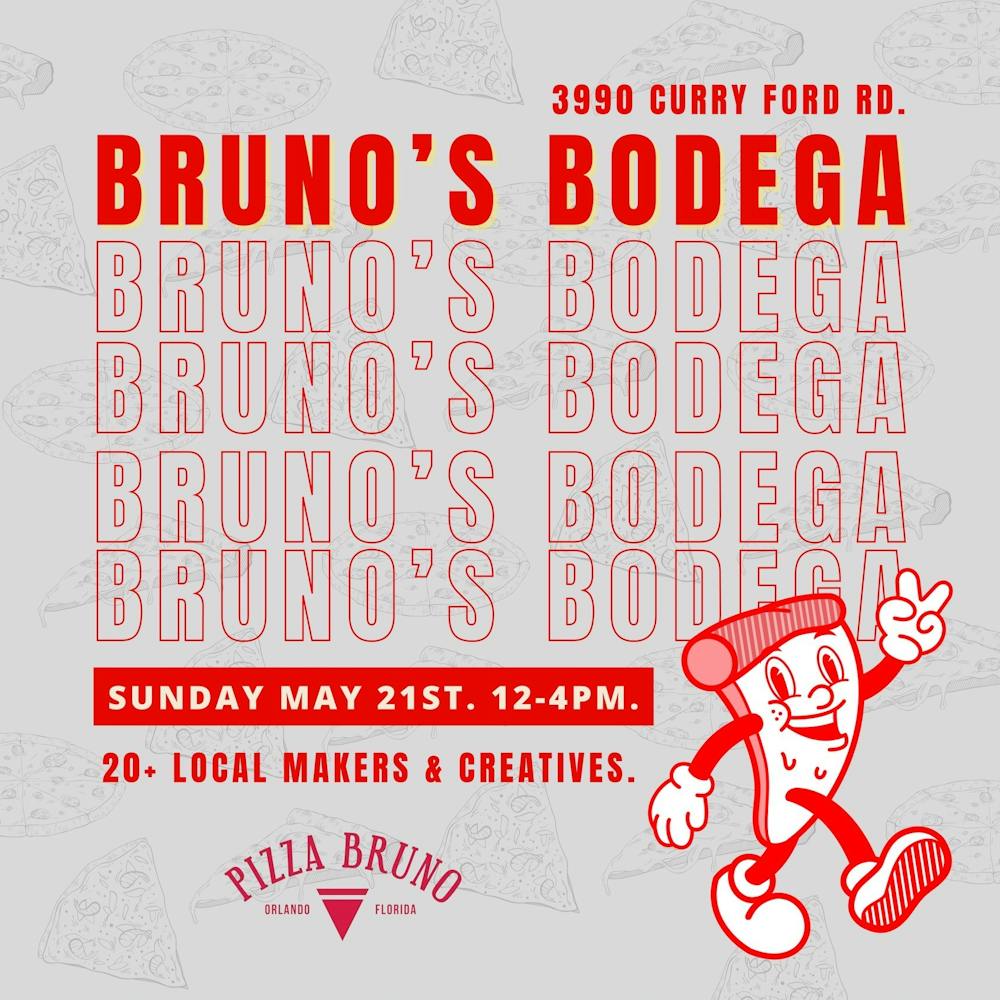 April Calendar:
CF-Curry Ford Location, CP- College Park Location
May 11th: (CF) Eat More Treats Pop Up 6PM-9PM or sell out!
May 18th: (CF) Chill in Tacos Ice Cream Pop Up 6-9PM or sell out!
May 20th: (CF) Join us from 3-4:30PM for a behind the scenes exclusive pizza class with Chef Bruno! In this class you'll learn how to make pizza dough, fresh mozzarella & of course pizza! Tickets $75/per person or $100/per person with unlimited beer/wine during the class! Limited tickets available. Purchase tickets here!
May 21st: (CF) Brunch Bruno WITH Bruno's Bodega Market 12-4PM featuring a variety of 20+ local vendors. Brunch Bruno is ONLY during markets & market hours. Market will be in the Pizza Bruno parking lot. Parking available in Wells Fargo across from Pizza Bruno.
Weekly/Monthly Specials COLLEGE PARK:
DINE IN ONLY EXCEPT CLASSIC MONDAY.
Happy Hour: 12-2PM & 5-7PM EVERY DAY! Half off krombacher pilsner, house white & house red.
Classic Monday: Classic Cheese Pizza $16 all day. Limit 4 per guest.
BOGO Tuesday: BOGO PIZZA! Buy 1 specialty pizza & get a classic pizza half off!
Wizzy Wednesday: Buy 12 wings & get a draft 1/2 off.
Thirsty Thursday: Happy Hour all night 5-10PM.
Grandma pies are +5 for all specialty pies (whole pies)
Lunch:
Lunch 7 days a week. Full menu plus SLICE SCHEDULE:
MONDAY - MARGHARITA/GHOST
TUESDAY - RONI/SPICY STETSON
WEDNESDAY - WODKA
THURSDAY - KBAR
FRIDAY - BIG BUFFY
WEEKENDS - GRANDMA
Cheese, Pepperoni, White & Tomato Slices available every day
Slices served 11:30AM-4:30PM. Slices are available TAKE OUT ONLY 3-4:30PM
Pizza Specials:
Hot Lips -
Mozz blend, Ricotta, Parm, Crispy Chicken, Hot Honey Chili Crisp, Scallions & Toasted Sesame
Wing Special:
Piccata with Crispy Capers
Hot Honey Chili Crisp
Drink Special:
Blueberry Lavender Sangria
White Sangria with Notes of Blueberry, Lavender & Lemon
Soft Serve Flavor of the Month:
Cookies & Creme
Weekly/Monthly Specials CURRY FORD:
DINE IN ONLY EXCEPT MARG MONDAY.
Happy Hour: 1/2 off house red or white wine & krombacher draft. Every day except Wednesday 5-7PM.
Marg Monday: $10 Margs all night.
BOGO Tuesday: BOGO PIZZA! Buy 1 pizza, get the 2nd half off.
Wizzy Wednesday: Buy 6 wings & get a draft 1/2 off.
Thirsty Thursday: Happy hour all night 5-10PM.
Late Night Date Night: Everyday 9PM-CLOSE buy a bottle of wine & get a free Margherita pizza! No toppings included/may add at additional cost.
Take Out Package (TO GO ONLY): 1-Specialty Pizza, 1-Salad & Homemade Cookie Box $40
May the Fourth Specials:
*Star Wars themed of course*
Sith Lord Slushie Sangria-
Pinapple, Orange, and Red Wine
The Darth Roni-
Tomato Base, Ricotta, Fresh Mozz, Red Onion, Red Bell Pepper, Pepperoni, Pecorino.
Cinco De Mayo Specials:
$3 Stone Buenaveza Salt & Lime Lagers until we sell out!
Elote Pizza-
Garlic, White Cheddar, Fresh Mozz, Corn, Garnish Mayo and Tajin
Piña Colada Tres Leches-
Pineapple Cake, Pina Colada "Three Milk" Soak, Coconut Whipped Topping, Candied Pineapple & Toasted Coconut Garnish (VEGAN!!!)
Mother's Day Specials:
Guava Mama Cake
Hazelnut Guava Cake, Vanilla Frosting, Pink Peppercorn Garnish
$7 Sangria Special
Pizza Specials:
Lamb-Borgini Pie-
Lamb Sausage, Shredded mozz, Pecorino, Tomato Confit, Ramps, Whipped Burrata
Peach Bourbon BBQ Pizza-
White Cheddar, Fresh Mozz, Carmelized Onion, Sausage, Peach Bourbon BBQ Sauce
Menu Specials:
Tomato Ramp Salad-
Cherry Tomatoes, Basil, Sliced Pickled Ramps, Red Onion, Celery, Zesty Dressing
Peach Bourbon BBQ Wings
Dessert Specials:
Peach Cobbler Cannoli
Don't forget items on the grab & go side of Pizza Bruno Curry Ford:
DIY Pizza Kit, Homemade Pasta Selections, Fresh Mozzarella, Pizza Sauce, Pizza Dough, Beers & Wines & more!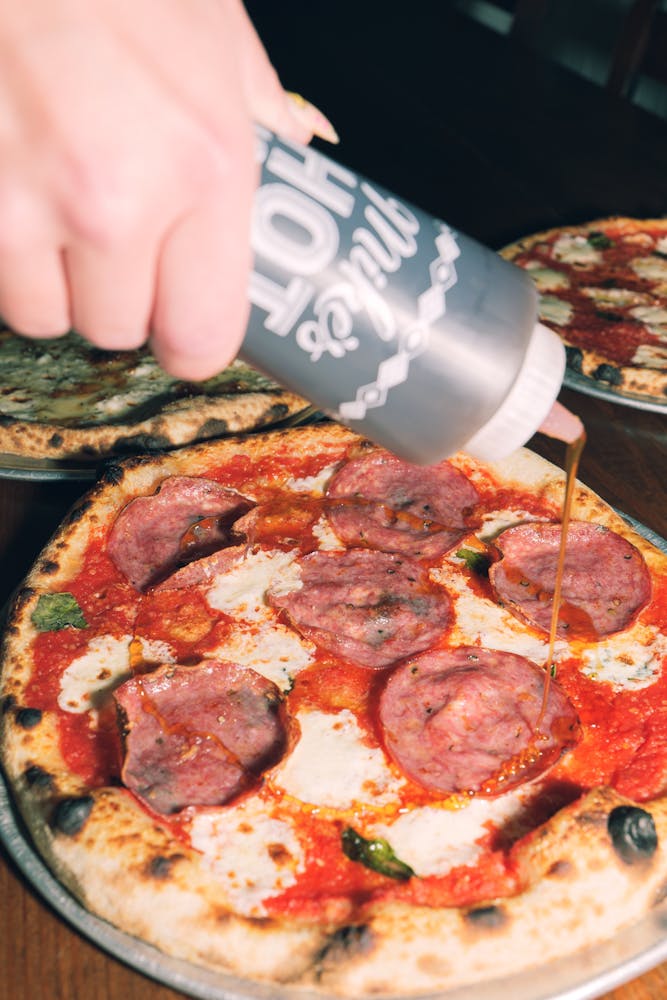 WHO DOESN'T WANT A PIZZA PARTY?!
Catered by Bruno is Pizza Bruno on wheels but we also offer on site catering at both our restaurants!
Rehearsal dinners, birthdays, corporate events, graduation parties, weddings & more!
DID YOU KNOW WE HAVE A MERCH SHOP?!

Shirts, hats, fanny packs, stickers, candles & more!

Shop NOW!



FOLLOW US !

@officialpizzabruno & Tik tok @pizzabrunofl

for news, specials & updates!